Summer BBQ Salads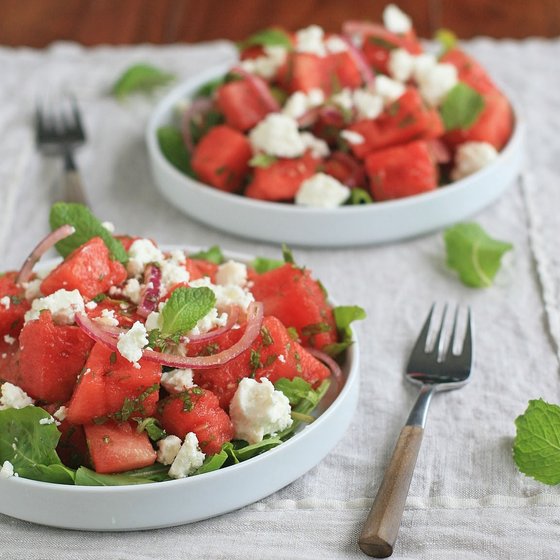 As the summer sun shines high, the barbeque season is back with a bang in Canada!
Having spent our summers in Canada, we are hit by the BBQ fever too! Barbeque in Canada is not just about firing up the barbie and enjoying cookouts. More than simply a cooking style, it's somewhat like a national identity which signifies the union with family and friends; it's an inseparable part of a Canadian lifestyle. We do lots of BBQs for our family and friends to enjoy the summer to the fullest.
While hamburgers and hotdogs are a regular in our BBQ party menu, they taste flat without a scrumptious side dish. A perfect BBQ side dish must be healthy to compensate for the extra animal fat in the grilled meat and should be easy to put together. Salads seem to fulfill these requisites and give perfect company to the smoky BBQ delights. I would like to share my favorite BBQ side dishes which never fail to please its takers.
---
Watermelon, feta cheese, mint salad
This side dish tastes as good as it looks. Cool and refreshing, this salad is perfect to tame down the heat of a fiery BBQ steak.
Serves: 8
Ingredients: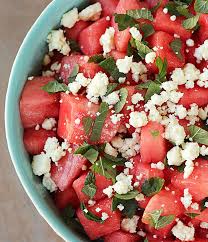 One (7-8 lb) watermelon, chilled
1 ½ cups feta cheese, crumbled
1 cup fresh mint leaves, chopped
3 limes, juiced
¾ tsp ground black pepper
1 ½ tsp salt
½ cup extra virgin olive oil
Method:
Slice off the rind from the watermelon, scrape out the seeds and chop it into 1'' cubes.
Toss them into a colander and set aside to drain out the excess juices.
Pour the olive oil into a small bowl and whisk in the lemon juice along with a dash each of seasonings until well combined.
Transfer the watermelon chunks into a large bowl and drizzle the prepared dressing over them.
Sprinkle the chopped mint on top and toss them gently until coated nicely with the dressing.
Crumble the feta cheese on top and give a quick stir to distribute evenly.
Serve right away!
---
​Mango coriander salsa
The summer is the time for mangoes and BBQs. So when they come together, it's sheer magic. This comforting fruity salad with a zing, thanks to the chili and lime, and makes a regular grilled salmon taste extravagant.
Serves: 2-3
Ingredients: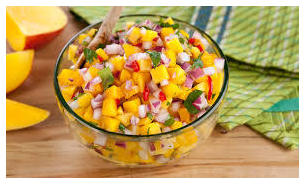 1 large ripe mango, peeled, halved and stoned
1 small bunch coriander, leaves picked and finely chopped
1 medium red onion, finely chopped
1 lime, juiced
1 red chili, deseeded and finely chopped
Salt and freshly ground black pepper to taste
Method:
Chop the mango flesh into 1'' dices and place them in a serving bowl.
Add the remaining ingredients along with a dash of salt and pepper to season.
Toss them all together to mix thoroughly and refrigerate, covered, for at least 30 minutes.
Serve chilled.
---
​Caramelized red onion salad
The pungent red onion transcends into a luscious sweet and sticky mass whose slight presence can turn any regular meal into something extraordinary. All it calls for is a slight effort!
Serves: 4-6
Ingredients: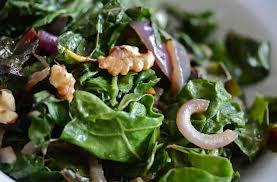 3 red onions, peeled and slice into crescent-shaped pieces
2 tbsp balsamic vinegar/red wine vinegar
1 tbsp olive oil
1 tsp sugar
Method:
Drizzle oil in a large skillet and heat it over medium flame until it shimmers.
Throw in the red onion slices and give a good stir to coat well with the hot oil.
Stir fry for 15 minutes until they soften and splash in the vinegar.
Sprinkle the sugar over them and stir to mix well.
Continue to cook for another 15 minutes, stirring often, until the onions caramelize and turn a tad sticky.
Remove from heat and allow to cool slightly.
Serve and enjoy!
I hope these recipes will trigger lots of new side dish ideas will take your BBQ cookout menu to another level.
Have a great summer all!
Marianna