Recipe of 'Chocolate and Pecan Brownies'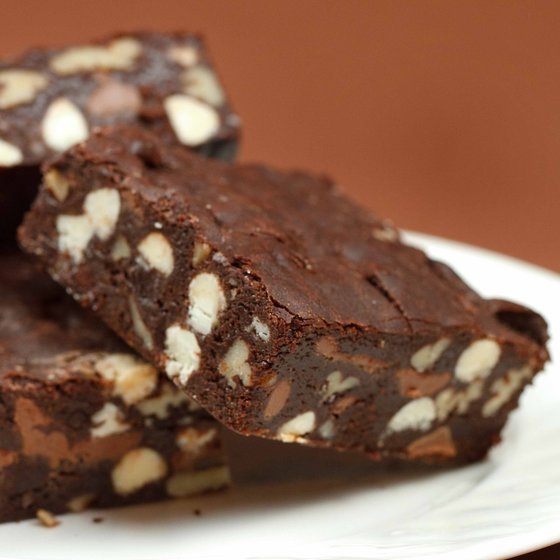 If you are a mom, who also loves to host parties at your place, you must be always looking for quick delicious meals.
Same is the case with me. I have young kids at home who are always ready for something yummy. My kids loves to eat brownies especially 'Chocolate and Pecan brownies'. They are easy to bake and very delicious. My husband, who is not a big fan of desserts, also loves these brownies.
Whenever I have baked these brownies for any party, they are an instant hit. If served with vanilla ice cream and blended strawberries, it makes a perfect dessert.
For all the bakers who wants to satisfy their sweet tooth but do not want much effort, here's is the recipe of 'Chocolate and Pecan Brownies'.
Its preparation time is just 15 minutes and cooking time is 25 minutes.
Below recipe makes 16 brownies.
Ingredients
150g dark chocolate

150g unsalted butter

100g pecans, crushed
3 eggs
225g light muscovado sugar
Seeds from 1 vanilla pod
100g plain flour, sifted
Steps for preparation
1. Preheat the oven to 180˚C/fan 160˚C/gas mark 4.
Grease and line a 23 x 33 cm baking tray.
2. Place the chocolate and butter in a heatproof bowl and set over a pan of simmering water. Stir gently until the chocolate has melted. Remove from the heat and add the pecans.
3. In another mixing bowl whisk the eggs, sugar and vanilla seeds until smooth, then fold in the flour.
4. Fold in the melted chocolate, taking care not to over-mix, and pour into the prepared tin.
5. Bake in the oven for 20–25 minutes. Leave to cool slightly before cutting in squares and serving.
Bon appétit. ☺
Marianna