Pasta with spinach, olives and pine nuts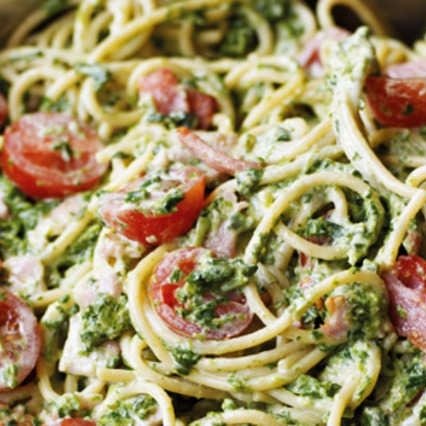 What to cook for dinner is one of the toughest decisions for moms like me! Every time I zero in on a particular dish, I have to check off-
Is it easy and quick to pull off?
Is it healthy enough for my kids?
Will they eat it without grumbling?
A pasta dish will make you say yes to all these fundamentals! The flour pasta is loaded with carbs which makes the energy profile of your kid to shoot up while the fibers and folic acid turns it healthier. Pasta also gives you a chance to experiment with the sauces or add-ons to whip up the perfect meal for your kids. Pep it up with tangy home-made tomato sauce or tone down the flavors with a creamy sauce and don't forget to throw in a veggie or two to make sure it's nourishing.
Last day, I had few fresh spinach leaves lying in my pantry and tossed them in the pot of creamy pasta I was cooking for dinner. They were soon joined by green peas, toasted pine nuts as well as olives and the final outcome was more delicious than I imagined. The pasta dish had the right balance of creamy goodness and playful crunch of the leafy greens while the nutty undertone of the pine nuts gave a pleasant company. Surprisingly, my kids didn't mind the greens in the pasta at all and cleaned up the plate in no time – it must have tasted really good!
So give it a try to make a fuss-free dinner for picky eaters and play with the pasta shapes to make it more fun for kids.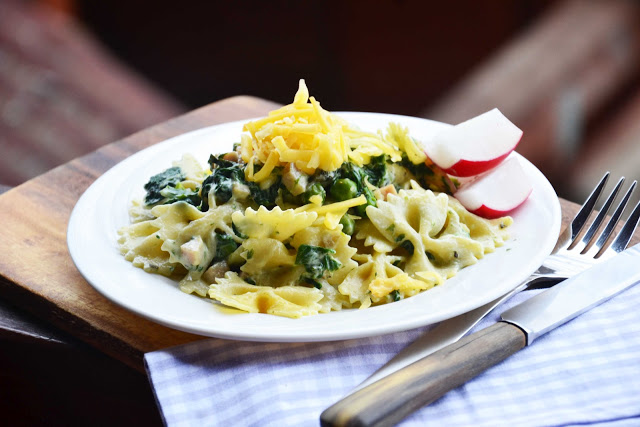 Serves: 4
Ingredients:
12 oz shell pasta
½ cup Parmesan cheese, grated
5 oz spinach leaves, tough stems discarded and chopped coarsely
10 oz frozen green peas, thawed and drained
2 tbsp pine nuts, toasted for a minute
¼ cup olives, pitted
1/3 cup low-sodium chicken broth
¾ cup low fat half and half
Kosher salt and freshly ground black pepper
Method:
Bring a large pot of salted water to a boil and throw in the pasta.
Cook according to package instructions until the pasta is cooked al dente and toss the peas into it, a minute before cooking time is over.
Drain them out into a colander and add them back into the pot.
Blanch the spinach for 3 minutes in a separate pot of salted water and drain it out in the colander; set aside until required.
Pour the chicken broth in a large skillet and beat in the half and half until well combined.
Bring the mixture to a simmer and cook over moderate heat for about 5-7 minutes or until the sauce thickens slightly.
Fold in the parmesan cheese and cook the sauce until it melts. • Pour the sauce into the pot with pasta plus peas.
Add the spinach, olives and pine nuts into the pot as well and toss them together until well coated.
Taste and stir in a dash each of salt as well as ground pepper to taste.
Pile up the pasta into individual bowls and serve right away.
Marianna :)