Oreo Cheesecake Cookie Dough Bars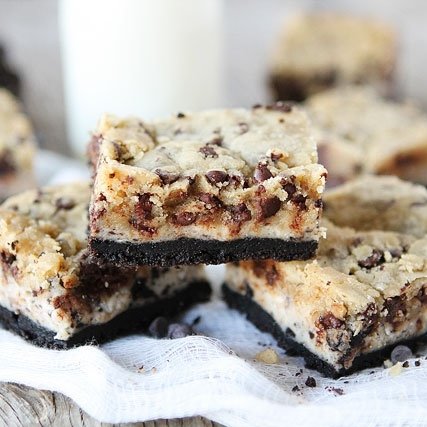 What is there not to love in Oreo Cheesecake Cookie Dough Bars?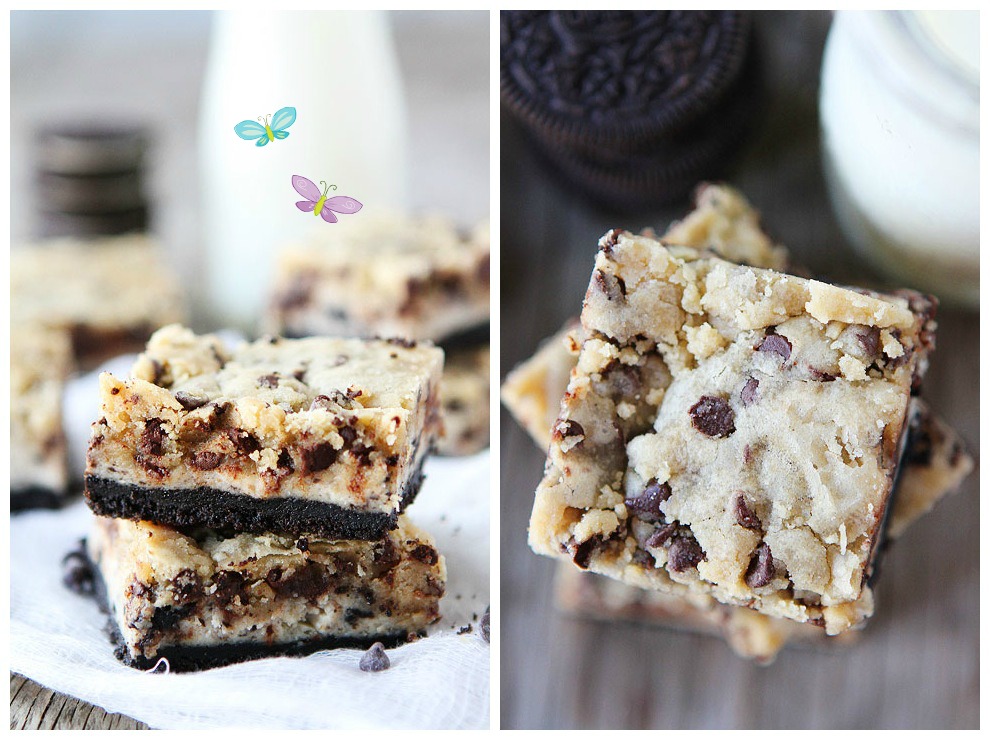 The moist Oreo crust and the mellowing creamy goodness of the cheesecake filling, studded with decadent chocolicious cookie dough, create an epic combination which will leave you spellbound. No wonder, my kids simply can't get enough of this magical dessert!
---
Yields: 16 bars
Ingredients:
For the oreo crust:
5 tbsp unsalted butter, melted
1 ½ cups crushed Oreo cookies
For the cookie dough:
¾ cup all purpose flour
3 tbsp granulated sugar
1/3 cup packed brown sugar
¾ cup mini chocolate chips
5 tbsp unsalted butter, softened
1 tsp vanilla extract
¼ tsp salt
For the cheesecake filling:
10 oz cream cheese, softened
¼ cup Crushed Oreos
1 large egg, at room temperature
¼ cup granulated sugar
1 tsp vanilla extract
Method:
Warm up your oven to 325 degrees F and spread a piece of parchment paper within a 8'' square baking pan.
Mist its base and sides with cooking spray to grease and set aside.
Combine the ingredients for crust until mixed thoroughly and transfer them into the prepared pan.
Spread it out and press gently to make them stick to the base of the pan and bake for 6-7 minutes.
Transfer the pan onto a wire rack and allow to cool.
Meanwhile, start preparing the cookie dough by beating the butter for a minute along with sugars, vanilla extract as well as a dash of salt until blended thoroughly.
Fold in the flour gradually until fully incorporated into a stick dough.
Blend in the chocolate chips until evenly distributed and save for later.
Whisk the cream cheese and sugar with an electric mixer until they form a smooth mixture.
Crack the egg into it followed by a splash of vanilla and whisk to incorporate.
Stir in the crushed Oreos and tip the mixture on top of the cooled crust.
Level out the surface with a spatula and set aside.
Pinch out small portions of the cookie dough and press it between your palms to flatten them.
Scatter them on top of the cheesecake filling and return the pan back into the hot oven.
Bake for half an hour or until the cookie dough dries up and the cheesecake turns firm.
Allow to cool to room temperature and carve out medium squares. • Serve at room temperature or enjoy it chilled.
m.