New Year's Eve canapés recipes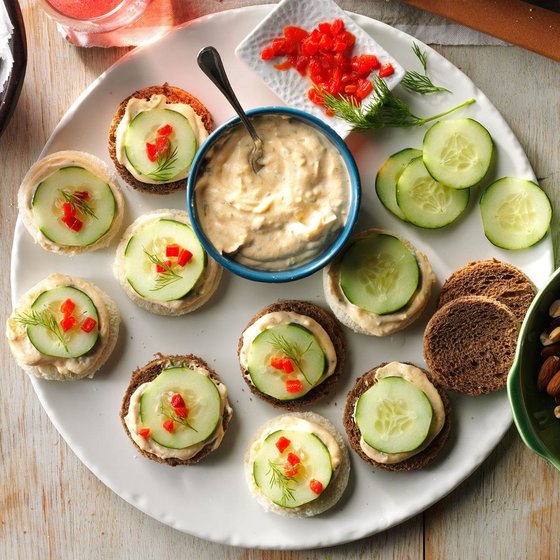 The holiday's time comes with the reason to party.
After Christmas, the next time to party is New Year's Eve. I was looking for some easy yet delicious snacks to serve during my New Year's Eve party and came up with some great recipes which are delicious, healthy and super easy to make. I am sharing two of these recipes which are perfect to present in your party platter.
---
Cucumber Canapés with Whipped Feta, Sun-Dried Tomatoes, and Basil
Ingredients: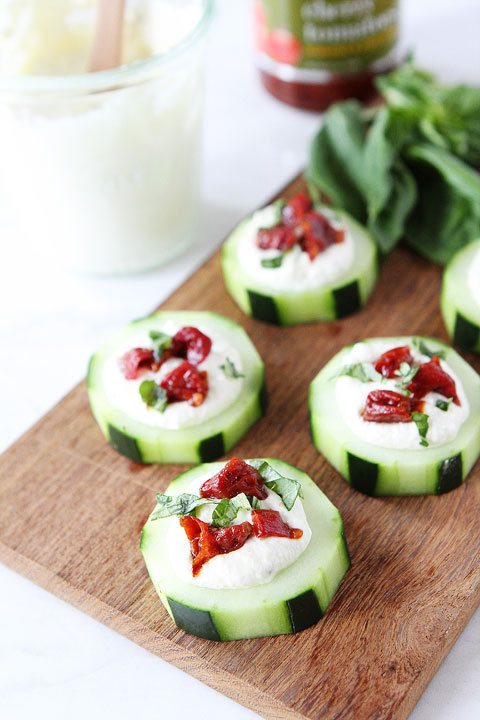 For the Whipped Feta:
6 ounces good feta, crumbled 2 ounces cream cheese at room temperature
2 tablespoons freshly squeezed lemon juice
1/2 teaspoon salt
1/4 teaspoon freshly ground black pepper
1/3 cup olive oil 2 large sliced cucumbers drained and chopped sun-dried tomatoes
1/2 cup chopped fresh basil
Directions:
1. First, make the whipped feta. Place the feta and cream cheese in the bowl of a food processor fitted with the steel blade. Pulse until the cheeses are mixed. Add the lemon juice, 1/2 teaspoon salt, and 1/4 teaspoon pepper and turn on the food processor. With the food processor running, slowly add the olive oil in a steady stream through the tube. Turn off the food processor.
2. Place a dollop of whipped feta in the center of each cucumber slice. Top with sun-dried tomatoes and fresh basil. Serve.
---
Roasted Cinnamon Pear Bruschetta
Ingredients: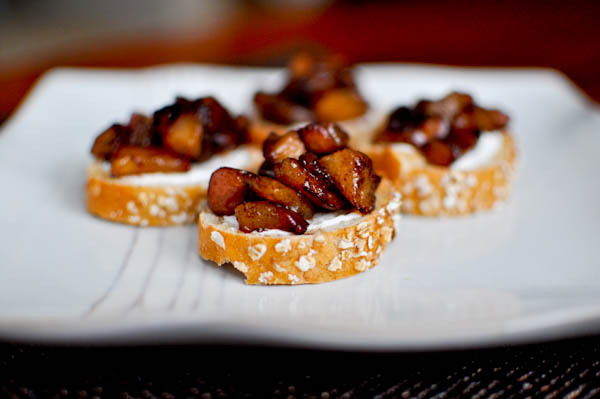 1 whole grain baguette, sliced into rounds
2 pears chopped
1 tablespoon butter
¼ teaspoon salt
½ teaspoon cinnamon
Pinch of nutmeg
2 tablespoon balsamic vinegar (I used cinnamon pear)
½ cup mascarpone
1 teaspoon honey
Directions:
1. Preheat oven at 400 F. Lay
2. Heat a skillet over medium-low heat and add butter. Add pears, then sprinkle with salt, cinnamon and nutmeg. Allow to caramelize slowly- for about 10-15 minutes.
3. In a bowl, combine mascarpone and honey. Spread on baguette slices.
4. Once pears are caramelized, add balsamic vinegar and cook for 1-2 more minutes. Add spoonful's of pear mixture on top of mascarpone on baguette. These can be served warm or cold.
Happy New Year!!!
Marianna