How to Get Picky Eaters to Eat Their Fruits and Veggies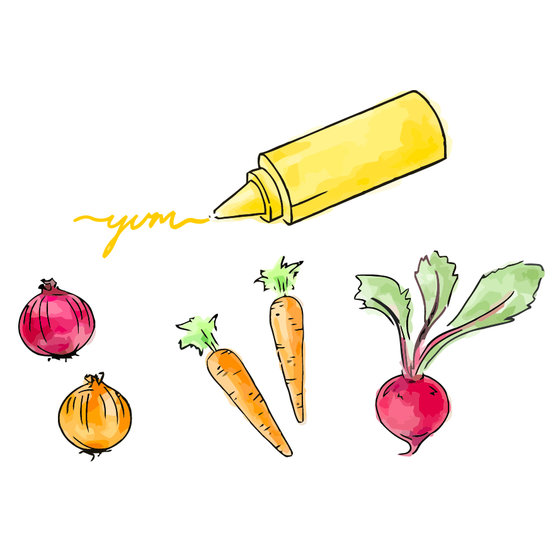 Most of us, even if we aren't "picky eaters" avoid eating our fruits and vegetables.
The reason here could simply be this: They are not tasty enough! And even though nutrition is an ever-evolving science, and it isn't often that nutrition experts agree unanimously on something, one fact is uncontested across the board: 50% of your daily food intake should comprise of fruits and vegetables. Yes, it's a fact. And yes, you're not doomed.
While it may seem like a lot at first, it's actually quite easy to get in the recommended amount of fruits and veggies. And for you to enjoy them while you're at it.
Whether you have little ones who turn up their noses at broccoli, an all "meat and potatoes" hubby or simply struggle with getting in the recommended daily intake yourself, here are some tips that will help you and your family boost your produce intake.
Use a spiralizer
Even the pickiest eaters can't say no to spaghetti. A spiralizer is a cheap kitchen gadget that turns vegetables into spaghetti-like strands. Sweet potatoes, beets, zucchini, carrots—just about anything can be spiralized using a spiralizer! You can then sauté or bake the strands and top them with your favorite sauce for a complete pasta experience.
Don't believe me? You could always try this zucchini pasta with cashew basil pesto or this spicy sweet potato spaghetti for experience!
Add mustard
Many people, mostly children, are sensitive to bitter taste. So, no wonder they spit out food like Brussels sprouts and kale. However, these are some of the most important health-promoting foods. A golden tip to make them more desirous while masking the bitter flavor, is to pair them with a mustard-based sauce or dip!
Pair with delicious dips
Guacamole, hummus, olive tapenade—all of these are delicious and healthy dips that make veggie sticks way more fun to eat. As an after-school snack, you could cut up slices of cucumber and carrots and pair them with one of these delicious dips.
Roast at high temperatures
When you roast vegetables at high temperatures, their sugars begin to caramelize. This gives them an irresistible flavor, that is far superior to mushy boiled vegetables or bland steamed ones. Here's how to proceed.
Set your oven to 450°. Chop vegetables uniformly and coat them in olive oil and spices. Then bake them, turning occasionally until the edges just start to brown. It should take about 20 minutes, but the cooking time will vary based on the type of vegetable and the size of each slice. Also, be sure to give the veggies space on the baking sheet. Don't crowd them. They could steam, rather than roast.
The most impressive thing about this method is that you can try it with Brussels sprouts, parsnips, carrots, beets, sweet potatoes, onions or really, with any other veggies that you like!
Use a blender
Investing in a high-quality, high-speed blender is a great way to increase your fresh produce intake. From fruit-filled morning smoothies to veggie-centric soups and purées (that replace mashed potatoes, yes!), blenders allow you to turn fruits and veggies into more desirous meals.

Pile on the spices
Spices are a great way to transform almost any dish instantly. For example, if you add steak seasoning to grilled Portobello mushrooms, it tastes like steak. If you're a spice newbie, try cooking veggies with pre-made spice blends, like the French herbes de Provence, Indian curry powder (or garam masala) or the Middle Eastern za'atar. If you like it hot, try these spicy cauliflower poppers.
Turn fruit into dessert
A piece of fruit often seems "boring" when compared to a traditional dessert. It probably won't get the kids exited. So to get kids (or even you!) thrilled about adding more fruit to your diet, you need to get a little inventive in the kitchen. And you can always start by making an ultra-satisfying soft-serve ice cream from frozen bananas, sorbet from frozen mango, or an ice cream from watermelon.
You can also turn dates into date rolls—an ultra-sweet and chewy snack—by blending them with shredded coconut and then rolling them in chopped nuts (or more coconut, for that matter). Also, you could dip sliced figs or whole strawberries in high quality dark chocolate to make them go down just a bit easier.
For special occasions, you can try making this watermelon cake, which is covered in whipped coconut cream. Why, doesn't fruit become infinitely more satisfying when you call it cake?!