Heavenly Greek Yogurt Biscuits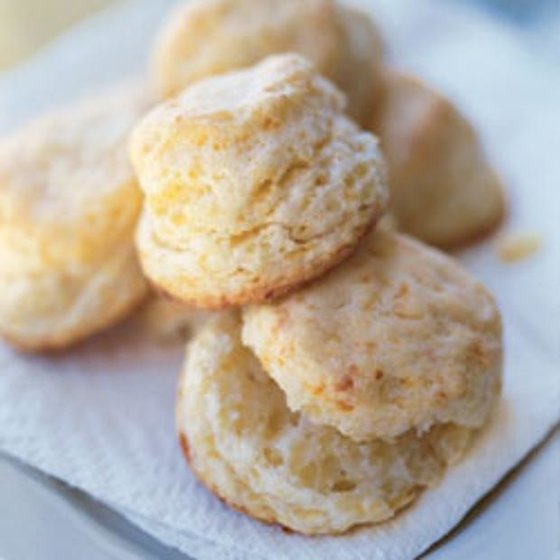 Light, flakey, puffed up balls of biscuit perfection sent straight from heaven.
A natural symphony of butter, flour, and milk come together to make an age old staple around the dinner table. Biscuits, they're easy to make and a real crowd pleaser. Until now, this classic comfort food hasn't offered much in the way of added nutrients. Traditional biscuit recipes call for all-purpose flour, butter, milk, salt and maybe an egg. There are 2 simple substitutions that can boost the nutritional value and give your body a little more of what it needs.
- Organic All-Purpose flour: organic flour is less processed that non-organic flour. The less a food is processed, the better your body will absorb and digest it.
- Plain Greek Yogurt: use in place of milk, buttermilk or sour cream. Greek yogurt will boost the protein power and produce a light, tender, flakey biscuit.
Snack Ideas
Use these biscuits to create easy, simple snack ideas your family will love (I know mine does). My boys absolutely love these biscuits! We make it a game to see what we can top the biscuits with, they've come up with some "interesting" food toppings but their favorites remain; any kind of fruit, peanut butter, jellies, cheese and honey.
These biscuits aren't just for dinner or for snacking, and they aren't just for kids. Try them as a breakfast sandwich during your morning rush. Just add a slice of lean ham or a quick scrambled egg and you've got breakfast on-the-go.
The possibilities are endless. What will you create?
And here is the recipe:
Greek Yogurt Biscuits
Tender, flaky, and buttery biscuits that are made with a secret ingredient-Greek yogurt! These are our favorite biscuits!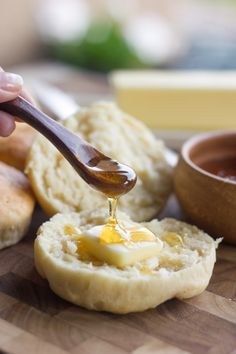 Ingredients:
3 cups Gold Medal All-Purpose Organic Flour
1 tablespoons granulated sugar
2 1/2 teaspoons baking powder
1/2 teaspoon baking soda
1/2 teaspoon salt
3/4 cup cold unsalted butter, cut into pieces
3/4 cup cold plain Greek yogurt (we use Chobani)
1 large egg, beaten
3 tablespoons cold water
1 large egg, beaten, for brushing on biscuits
Directions:
1. Preheat oven to 400 degrees F. Line two large baking sheets with parchment paper and set aside.
2. In a mixing bowl, sift together flour, sugar, baking powder, baking soda, and salt. Cut in butter, using your fingers or a pastry cutter. Work the dough until mixture resembles a coarse meal.
3. In a small bowl, whisk together Greek yogurt, egg, and water. Add liquid ingredients to flour mixture, stirring until dough barely comes together. Dump the mixture on lightly floured counter and knead until the dough comes together. Don't overwork the dough.
4. Using a rolling pin, roll out the dough into a 1-inch thick circle. Cut into rounds using a biscuit cutter or cut into 2×2-inch squares. Combine dough scraps and roll out again to make remaining biscuits.
5. Place biscuits on prepared baking sheets and brush with the egg wash. Bake for 12-15 minutes. Serve warm with butter, honey, or jam!
m.