Healthy snacks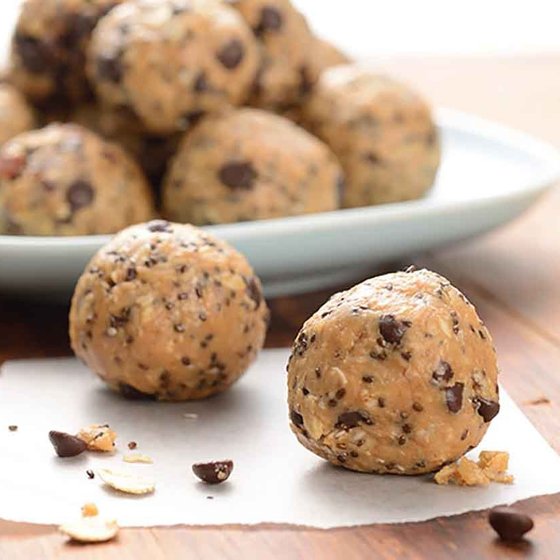 Blueberry oatmeal bars with spinach
These homemade energy bars are simple to make and they are so YUMMY! I've been freezing them individually wrapped, so I just grab them in the morning and tuck them into my kid's lunch boxes.
My kids think they just getting a treat, they would never eat this if they knew what was in it. Since they don't, it's usually gone in a day – or less.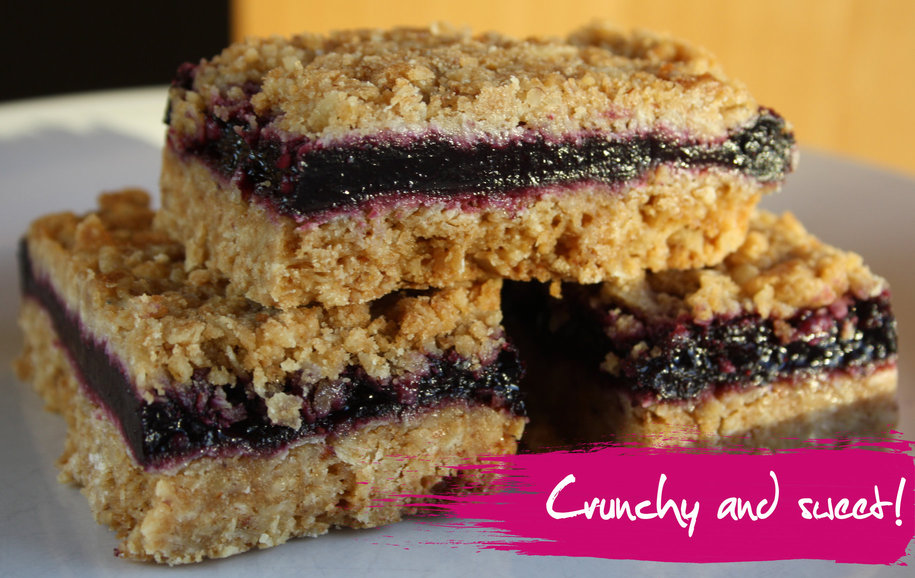 Ingredients:
2 cups old fashioned oats
1 1/4 cups all purpose flour
½ cup sugar
½ teaspoon cinnamon
¼ teaspoon baking powder
¼ teaspoon salt
1teaspoon vanilla extract
¾ cup
1 cup of blueberries
½ cup blended spinach
Preheat the oven to 375F, coat baking pan with butter
In a large bowl, combine the oats, flour, sugar, cinnamon, baking powder, salt and vanilla, and stir to mix well.
Add the margarine and cut it into the dry ingredients until the mixture resembles coarse meal and is no longer powdery.
Set aside about half of the oat mixture, press the rest of it firmly into the pan. Bake until lightly browned at the edges, 13 to 15 minutes.
Meanwhile mix the preserves with the blended spinach in a small bowl.
Spread the blueberry mixture over the partially baked oat layer, then the sprinkle with the reserved oat mixture. Bake until the topping is slightly browned, 20 to 25 minutes. Cut into 12 bars.
---
​​Healthy no bake energy balls
These will be a favorite of everyone in your house. Healthy energy balls and NO baking! Delicious snack for After-school sports will give your kids the energy for the second half, and the protein from the peanut butter makes sure they're getting the support their bodies need during the game.
! Do NOT give these to your kids after dinner! I made that mistake. My boys had trouble falling asleep because they had so much energy.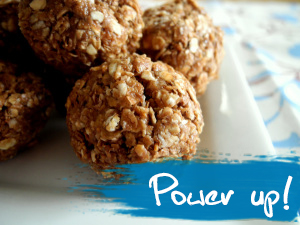 Ingredients:
1 cup oatmeal (dry)
1/2 cup peanut butter (or other nut butter such as almond)
1/3 cup honey
1 cup coconut flakes
1/2 cup ground flaxseed (or buy whole and use a coffee bean grinder)
1/4 to 1/2 cup mini chocolate chips or use raisins, almonds or pecans instead
1 tsp vanilla
Optional: Add protein powder, goji berries, use light peanut butter, use dark chocolate
Mix everything above in a medium bowl until thoroughly incorporated. Let chill in the refrigerator for half an hour. Once chilled, roll into balls and enjoy! Store in an airtight container and keep refrigerated for up to 1 week. You can also spread mixture in a large cookie bar pan and cut into squares instead of rolling into balls.
Tip: Wet your hands when making into balls and you will avoid any sticky mess if you run your hands through water every few balls or put your hands in plastic bags to roll.
Makes 24 balls: 110 calories, 13 carbs, 6 grams of fat, and 2 grams of protein.
Enjoy!
Marianna