Chicken korma with raisins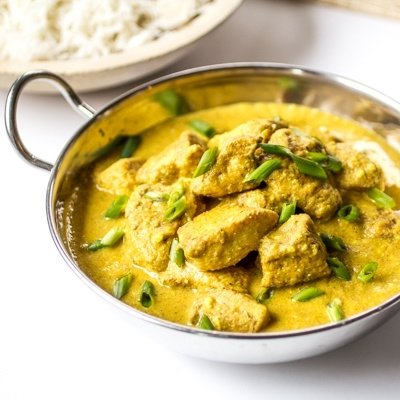 Though children and spices often don't mingle, that's not the case in my home.
My boys love to dip their fingers into creamy curries and lick them to ultimate satisfaction. Being the mildest of curries, chicken korma happens to be their favorite for all the right reasons. While the subtle spicy flavors are in proper sync with the sweet creamy goodness, the raisins adds the right dose of fruity sweetness to the dish. So get ready to treat your kids with a cocktail of flavors with this yummy Indian delicacy. Feel free to throw in few staple veggies like frozen peas, sweet potatoes or zucchini too boost its health quotient or swap cream with low-fat yogurt to bring down the calories. So serve chicken korma to your kids and help their palates adapt to new interesting flavors.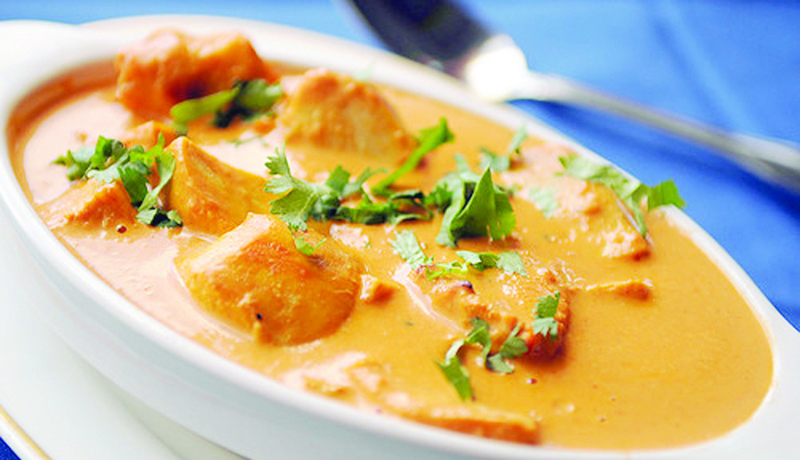 Serves:4
Ingredients:
4 boneless and skinless chicken breasts, chopped into bite-sized pieces
½ can coconut milk
4.5 oz single cream
4.5 oz plain yogurt
½ cup chicken broth
2 handful assorted veggies (carrots, peas, mushrooms etc)
One handful sliced almonds, toasted
¼ cup raisins
4 garlic cloves, peeled
1'' fresh ginger root, peeled
1 medium onion, peeled and coarsely chopped
1 tsp fresh cilantro, finely chopped
1.5 oz clarified butter or ghee
1 cinnamon stick
1 tsp ground cumin
1 tsp ground coriander
2 green cardamom pods, split open
4 whole cloves
2 bay leaves
2 tbsp water
Method:
Toss the onion, ginger and garlic into a blender along with water and pulse it into smooth paste.
Add a large blob of clarified butter into a large heavy-bottomed saucepan and melt it over medium heat.
Throw in the whole spices and sprinkle the ground ones over them.
Stir fry for a couple of minutes until they turn fragrant and add the prepared paste into it.
Stir to mix well and continue to fry the mixture for about 6-8 minutes, while stirring often, until it browns slightly.
Toss the chicken chunks into the pan along with the veggies and continue to cook the mixture, stirring at times, until the former browns evenly.
Pour in the chicken broth and continue to cook until it starts boiling.
Bring it down to a simmer over reduced heat, add the raisins and cook for 15 minutes, without any lid on, until the curry reduces and the chicken softens.
Meanwhile whisk the cream into the yogurt until blended thoroughly into a smooth mixture and fold it into the curry.
Cook for another 4 minutes while making sure that the curry doesn't boil to prevent the curd from splitting. • Discard the whole spices and pour the chicken korma into a large serving bowl.
Sprinkle the chopped cilantro on top, followed by toasted almonds and serve warm.
Enjoy with fluffed steamed rice or Indian flatbreads.
Marianna :)