Asparagus goat's cheese tart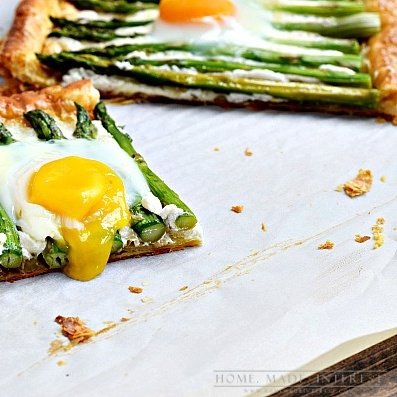 Asparagus goat's cheese tart Spring makes me lazy and I love brunch time so much all this season.
I don't have to wake up early to make breakfast on the weekends and usually get ample time to whip up a sumptuous meal for my springtime indulgence. Asparagus goat cheese tart is a delicious way to enjoy the seasonal produce. It's pretty simple to make, especially if cooked using store-brought puff pastry, super-quick and saves me the trouble from washing an extra pot. It makes my inner lazy self so happy!
You may also use home-made pastry for this tart but the packaged ones taste equally good as well and saves a lot of labor. However, stick to all-butter puff pastry dough for best flavors; the ones containing hydrogenated oils are not even half as good as its buttery counterparts. The chalky goat's cheese with not too strong flavors works perfectly for this tart. You may also use the softer version in tubs but it creates a world of difference in flavors. Also make sure that you don't overcook the tart since the asparagus needs to be crisp-tender and not rubbery. Once these subtle nuances are sorted out, this spring time tart is ready to tease your senses with its rustic flavors and brighten up the day with cheesy tartness.
So sit in the backyard, relish the decadence asparagus, goat's cheese tart under the warm sun and make the best out of spring.
Ingredients:
1 sheet puff pastry, thawed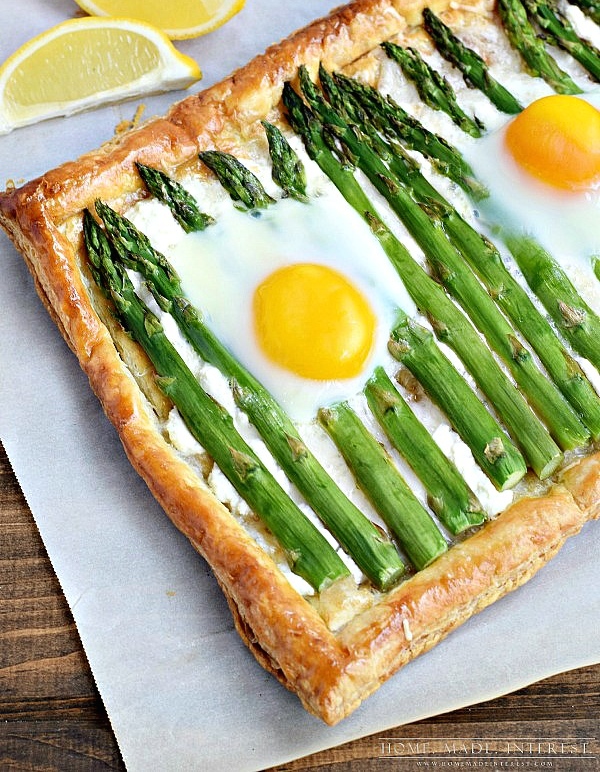 15 asparaus spears, rinsed and trimmed
2 oz goat's cheese, crumbled
1 cup Gruyere cheese
2 lemon slices
2-3 eggs
1 egg white, beaten with one tbsp water
Method:
Warm up your oven to 400 degrees F.
Roll out the puff pastry dough on a piece of parchment paper and carve out a small rectangular boundary in it using a sharp knife.
Poke it with a fork at several places and paint it thoroughly with beaten egg white to give it a gorgeous glaze when baked.
Transfer the pastry dough rectangle on a baking sheet and pop into the hot oven.
Bake for 10 minutes or until the pastry puffs up.
Meanwhile, boil the asparagus spears for a couple of minutes or so and drain them out in a colander.
Wrap them in moist paper towels and cook the microwave oven for 4 minutes.
Remove the puff pastry from the oven and crumble the gruyere cheese across it.
Top it up with crumbled goat's cheese and arrange the asparagus spears, side by side, on the cheese layer.
Crack the eggs over them and return the puff pastry back into the oven.
Bake for another 15-20 minutes or until the egg whites are set while the yolks remain runny; the crust should turn golden-brown by then.
Remove the tart from oven, squeeze out fresh lemon juice on it and carve out thick wedges.
Serve and enjoy!
Marianna