Backyard fun
With the temperatures soaring and children at home from school, summers are officially here.
So, as it goes without saying, it is also the time for long evenings spent flipping hotdogs on the grill, weekend parties and as-many-as-you-like get togethers with family and friends. So, given the fact that you will be spending a sizeable amount of your time in your backyard in these coming days, it would be a good idea to create something that would be enjoyed both by adults and children – as they hang out to party at your place.
There are several fun, safe and interesting games that can be set up in the backyard without burning a hole in the pocket, which will also keep the kids entertained while the adults catch up with each other.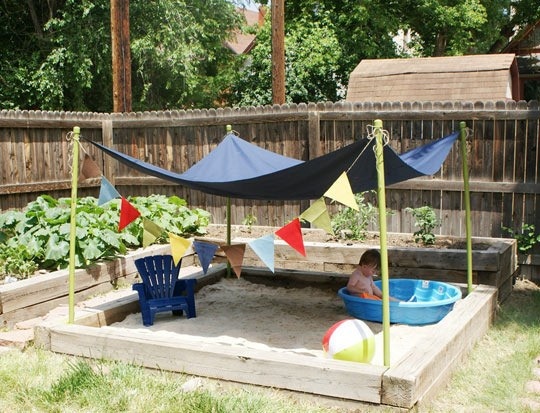 One of the most beloved by kids is a playhouse, which has such a fan following that even after years children refuse to let go of these. It does not have to be very fancy. The children will take even a simple one and turn it into a huge castle with their imagination. Just give them something to start with.
For the slightly younger kids, it would be great to set up a sandbox to mimic a beach. To complete the look, fill up a small tub with water for them to splash around. Just make sure it is in a shaded area. Of course, no backyard is complete without a swing, so don't forget to put one up.
But summers is supposed to be fun time for all, not just the kids. That is why we have the perfect recipe for making adults as happy as the kids to be out there. One of the classics we bring to you is the cornhole also known as beanbag toss. A typical DIY setup includes a couple of pieces of wood with a single space or even more cut out for throwing beanbags in them, with those successful scoring points or prizes.
A similar version of this game is the horseshoe, which can be set up with as little as a couple of horseshoes (made in either steel or plastic depending on the players age group) and a stick around which it is supposed to land.
For the more athletically inclined, badminton is the way to go as it does not require much space and turns out to be a lot of fun. Croquet has also gained popularity over the years and can be put up easily with a few wickets, mallets and balls – a fun game that can be played with the entire family. And getting the entire set is rather easy on the pocket.
So, all you need to do is get out there and beat the stress by relaxing and having some good natured fun with the loved ones. We can tell you by experience, all of the work you put in will be completely worth it. And in case after all the fun and games, if you feel the need for a nap, put up a hammock in a quiet spot and nod off.
m.